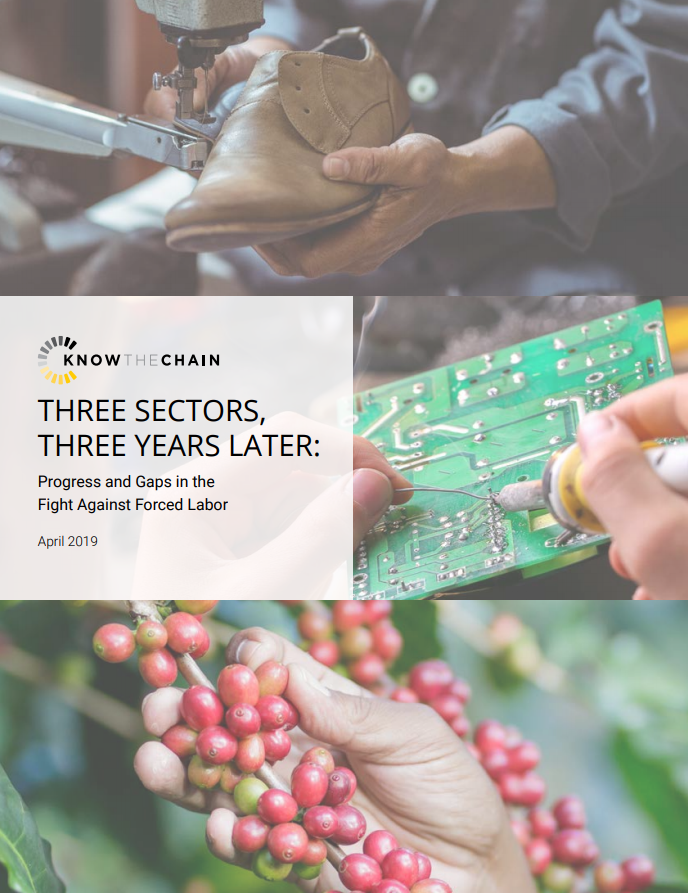 Three Sectors, Three Years Later: Progress and Gaps in the Fight Against Forced Labor
Who's behind it? – Know the Chain (2019)
How can it help? – In 2016, KnowTheChain evaluated 60 companies in three high-risk sectors—information and Communications Technology (ICT), Food and Beverage, and Apparel and Footwear—on their efforts to address forced labor in their supply chains. In 2018, this effort was repeated and expanded to 119 companies.
KnowTheChain views its role as both providing an evidence-based barometer for assessing corporate practice and as a resource to companies and investors for improved policy and action to address forced labor risks in global supply chains. This report is an opportunity to serve both of these objectives.
The latest report presents findings from KnowTheChain's benchmarks on the progress in corporate efforts to address forced labor in high-risk sectors and the most severe gaps in action that persist even among companies with more advanced supply chain labor practices.
It offers recommendations for companies in any sector and at any stage of developing their policies and processes for addressing forced labor. The accompanying Excel tool offers guidance on how to get started and how to build on existing practices, and it provides good practice examples from three sectors.
Investors are called to action and are provided with questions for engagement with investee companies, as well as detailed information
on the benchmark scores (including on the critical themes of Recruitment and Worker Voice) of the 119 companies.